Faith and business – Strategizing for an unknown world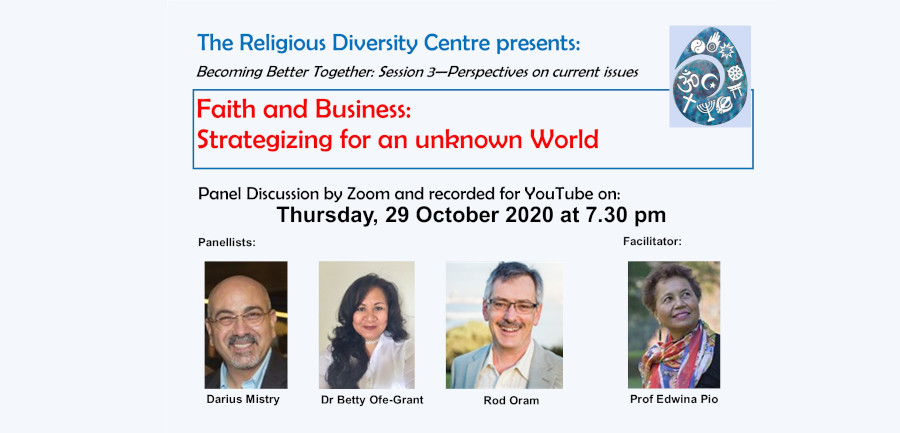 Informaton Sheet for Panel Discussion
To register for this panel discussion please click here
Virtual panel discussion: 29th October 2020 at 1930 hours
What role does faith play in the business world in these pandemic-ravaged times? Historically, there has been tension between individual faith (belief in a higher power) and management in organisations. Against today's backdrop of fear and uncertainty, the need to entwine these two seemingly disparate schemas is greater than ever. The long-standing dichotomy of faith vs business needs to be replaced with a business model that recognises and celebrates the myriad possibilities that come from diverse, inclusive and economically robust system approaches to business and beliefs.
Panellists:
Darius Mistry – Managing Director Imagetext
Darius migrated to New Zealand in 1987 with his wife after doing his Post Graduate studies in Business and Accounting and with 7 years' work experience in the IT Industry. Having come for a highly competitive world of Asia, settling down in NZ was a breeze and very soon Darius was the top selling Sales Executive for Apple for 3 consecutive years. After a further 7 years of local industry experience Darius ventured into his own business in 1994 and has taken a small IT business and quadrupled that business. Today, Imagetext is NZ's premier Apple System Integrator and employs 22 staff.
Betty Ofe-Grant – NZ-Pasifika Academic from Auckland University of Technology
Dr Betty Ofe-Grant is a NZ-born Pasifika academic at Auckland University of Technology. Her specialist field is Human Resources and more specifically, Tagata Pasifika (Pacific people) and work. Betty's PhD research found that Samoans incorporate cultural values including religious faith as part of their professional development that led to successful business careers in New Zealand.
Rod Oram – Business Journalist
Business journalist Rod Oram contributes weekly to Newsroom, Nine to Noon, and Newstalk ZB. He is a public speaker on deep sustainability, business, economics, and innovation. Rod is a member of the Edmund Hillary Fellowship, which brings together people from here and abroad who seek to contribute to global change from Aotearoa.
Rod was a founding trustee and the second chairman of Ākina Foundation, which helps social enterprises develop their business models in areas of sustainability. He remains actively involved with the foundation and the ventures it supports.
Facilitator:
Edwina Pio – Professor of Diversity at Auckland University of Technology
Recipient of a Royal Society medal, Fulbright alumna, Edwina Pio is New Zealand's first Professor of Diversity, and University Director of Diversity and elected Councillor on the governing body of the Auckland University of Technology. Her research encompasses the intersections of work, ethnicity, indigenous studies, religion and pedagogy. A thought leader, recipient of a Duke of Edinburgh Fellowship, trustee of the national Religious Diversity Centre, New Zealand widely travelled and published, she is known for her praxis in action and rationally compassionate work on diversity and inclusion in a pluri-ethnic, pluri-religious, volatile world.